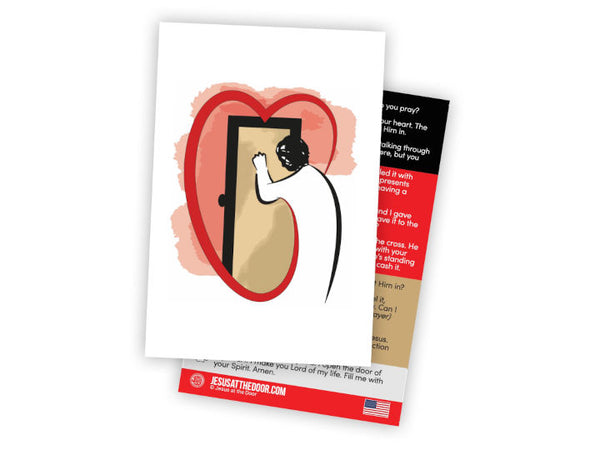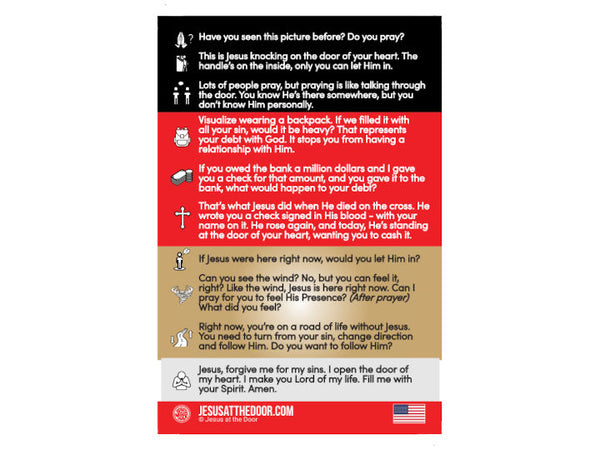 Purchase in Packs of 20.
As many as 96% of Christians are not leading anyone to Jesus. This means that the vast majority of the wider church is, at best, simply sowing. Utilizing this effective "reaping-style" evangelism tool called Jesus At The Door Equipping Card will take you right into the fields of life to reap an incredible harvest of souls.  This card illustrates a simple yet powerful 9-step gospel that has been proven to get results in leading many to Jesus when initiated in partnership with the Holy Spirit. This "Jesus at the Door" Equipping Card will be a good reminder of the kingdom of God, which requires both sowing and reaping. If we neglect reaping, we will not have a healthy harvest.

Jesus At The Door offers a unique tool—an Equipping Card to use with anyone you know, anywhere—and practical, step-by-step instructions, helping readers witness to friends, family, even strangers on the street. This tried-and-tested method is framed around nine points and a picture and takes about two minutes from introduction to salvation.