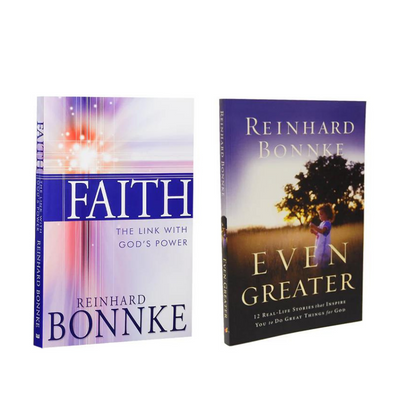 Order this Faith Bundle today and SAVE 50%. 
*DISCOUNTS MAY NOT APPEAR IN CART BUT WILL APPEAR UPON CHECKOUT.
----------------------------------
Faith: The Link with God's Power, International Evangelist Reinhard Bonnke draws from his years of personal study and vibrant ministry to reveal that...
Faith is like a wiring system that carries power into our lives. 
Faith itself is not the power, but it links us to the power source.
There is no link to God's power without faith. 
Our belief in what happens tomorrow stems from what we already experienced yesterday.
"It is not the size of our faith, but the size of the God we believe in, that determines the results."
------------------------------------
Even Greater - 12 Real-Life Stories that Inspire You to Do Great Things for God by Reinhard Bonnke.
Our dreams, like a child's innocence are in essence very fragile - beautiful to behold, but easily broken. Yet God is larger than a dream, stronger than a fear, and higher than an expectation. Even Greater delivers dramatic, faith-building true stories about ordinary people from around the world. People just like you, with whom God did extraordinary works despite broken dreams, failure and weakness. His grace is freely given...
Even Greater - 12 Real-Life Stories
You will be moved, you will be inspired, and you will be challenged to do Even Greater works for God!