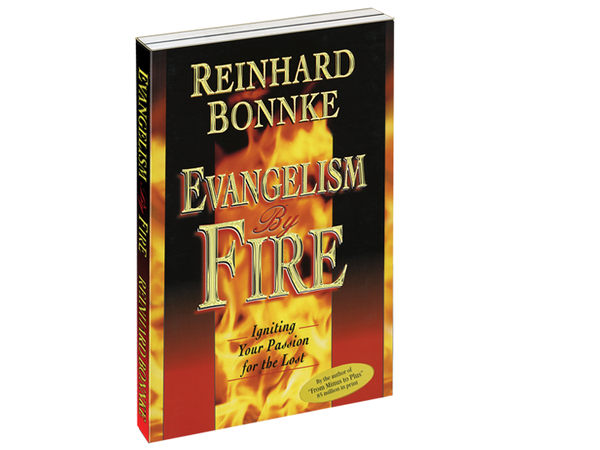 This specially designed and structured workbook will help you to glean the maximum understanding from the accompanying book Evangelism by Fire. It will help to further enrich and kindle in your own heart a new zeal for reaching the lost. Through its carefully planned stages, it will aid you to extract the very heart of each chapter that you may grasp the fullness of this powerful and challenging book.
Spirit-Empowered Evangelism that will change the world forever!
How to win the world for Jesus? How to reach this and future generations with the life-changing Gospel message? 
After using 'tried and true' methods of evangelism throughout Africa with only handfuls of people responding, Reinhard Bonnke yearned for a new dimension of Holy Spirit evangelism, in which literally millions would come to a saving grace in Jesus Christ.
Preaching the Word of God by the power of the Holy Spirit, he now sees nations shaken by the power of the glorious Gospel message. He also realizes the vital need to raise up and encourage many new evangelists that they too may understand the dynamism of the 'signs following Gospel' and employ the biblical tools of evangelism in the harvest fields of the world for themselves.
The evangelist is a man with a driving urgency, not a man with two minds. The Gospel and nothing else on earth matters: neither fame, money, earthly pleasures nor life itself. Jesus had a fatal attraction for the wretched. It led Him to the Cross. He would bring His salvation and healing touch to broken lives no matter what.
God is with us, not because we have great faith. He is with us because He has committed Himself irrevocably. Faith is not just for the possible—that is not faith at all. The mightiest resource in the universe is the Arm of God. The Lord of the Harvest will send forth His laborers.