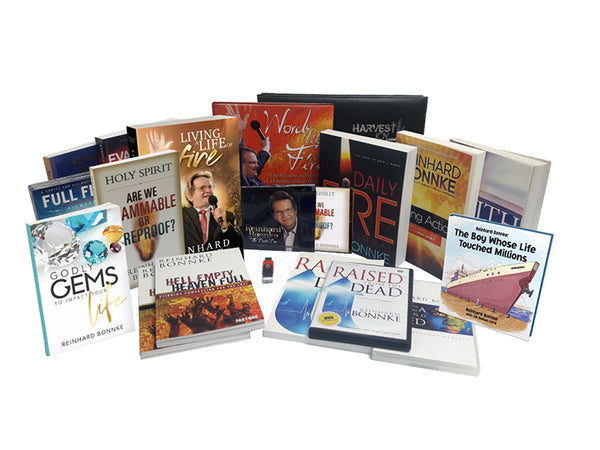 Now you can get 23 of Evangelist Reinhard Bonnke's most popular and impacting resources available in one bundle! Our updated "Bonnke Bundle" includes his newest books, Godly Gems, The boy whose life touched millions, Holy Spirit: Are We Flammable or Fireproof?, and the beautiful book Harvest Joy that is filled with spectacular photos and a historical timeline of the Nigerian outpouring that began in 2000.
You can receive the torch of ministry from the hand and heart of Evangelist Bonnke today or equip a friend or loved one with fuel for their evangelistic fire. This powerful bundle includes his latest book, "Holy Spirit: Are We Flammable or Fireproof?", Faith the Link, Living a Life of Fire, Taking Action and 14 more!
The current Bonnke Bundle includes these top 23 resources by Evangelist Reinhard Bonnke:
Godly Gems: From the dawn of recorded history, humans have traversed continents and faced great obstacles in search of wealth. Yet, ancient Israel's King Solomon wrote, "Sell everything and buy Wisdom! Forage for Understanding! Above all and before all, do this: Get Wisdom!" (Proverbs 4:5 - MSG). The greatest fortune on earth pales in comparison to godly wisdom.
The Boy Whose Life Touched Millions: What does a circus, a ship, and a dance hall for teens have in common? God used each one of them to set Reinhard Bonnke on course for a very special mission: to share the love of Jesus with millions of people around the world. The Boy Whose Life Touched Millions tells the real-life adventures that Reinhard Bonnke faced along his journey from post-war Germany to the mission-fields of Africa. Evangelist Bonnke fills this first-hand account with daring escapes, supernatural encounters, and miraculous conversions. His amazing journey is sure to inspire children of all ages to open their hearts to God's call in their own lives.
Holy Spirit: Are We Flammable or Fireproof? (Book & Audiobook) – Evangelist Reinhard Bonnke has penned some strong teachings on the Holy Spirit for you and has written dynamic Points of Power on the Holy Spirit (Fire Points). This book will challenge your thinking on the Holy Spirit and inspire you to believe in the amazing power of the Spirit within you.
Harvest Joy (Book) - a richly illustrated chronicle of possibly one of the greatest harvest of souls recorded in the Christian Church!
Daily Fire (Book)- Daily Fire Devotional is a collection of dynamic devotionals from the powerful writings of Evangelist Reinhard Bonnke.
Faith the Link (Book)- If you think you've learned all there is to know about faith, then you haven't read Bonnke on faith. While many preach about faith, Bonnke has put it to the test in over thirty years of ministry.
Living a Life of Fire (Book and USB) – From one of the leading soul-winners of our time, Evangelist Reinhard Bonnke, comes this amazing life story. An absolutely captivating read, filled with powerfully moving stories about men and woman saved, delivered, and literally rescued from certain death
Full Flame (DVD series) - If you've ever dreamed of doing something great for God, but weren't sure of the qualifications needed, Full Flame answers your questions and reveals those same biblical principles that propelled Reinhard Bonnke to become one of today's leading soul-winners.
Taking Action (Book + Workbook)- In "Taking Action" Reinhard Bonnke describes how we too can be an extension of God's love to the world by partnering with the Holy Spirit.
Words like Fire (Book)– Enjoy inspirational quotations from Evangelist Reinhard Bonnke. His words stem from experience, are rooted in the Word of God and have been caught, communicated and absorbed into the very fabric of the ministry of Christ for all Nations.
Raised from the Dead (Book and DVD) - A truly amazing testimony of a man killed in a tragic auto accident, pronounced dead, then by faith in God's Word...Raised from the Dead!
Hell Empty Heaven Full Part 1 and Part 2 (Book) - International Evangelist Reinhard Bonnke shares his personal passion for bringing the Gospel to every one of God's children. He invites you - he urges you - to join Jesus at the crossroads between despair and delight. 
Evangelism By Fire (Book + Workbook) -  In Evangelism by Fire Evangelist Reinhard Bonnke lays out the principles necessary for effective evangelism, showing how God operates through anyone who is willing to follow His plan.
The Poet's Pen (CD) - On this special, audio-CD release, Reinhard Bonnke presents Bible-truth, power-packed poems that will bless and challenge you. These personal poems from Reinhard Bonnke are read directly by him on the CD.
Time is Running Out (Book + Workbook) - With his passionate desire to see souls won for Christ, Reinhard expounds the biblical principles of successful evangelism. Proven and effective techniques for reaching the lost are skillfully, yet simply, described, in order to teach, inspire, and encourage others to take up Evangelist challenge to reach out to their neighbors, friends, and the world.
Africa is Being Saved (DVD) - Now, in this captivating double DVD collection, you too can experience firsthand how God is bringing salvation and healing to His people. Listen, watch, and enjoy you'll soon be inspired to join in this amazing movement of miracles!